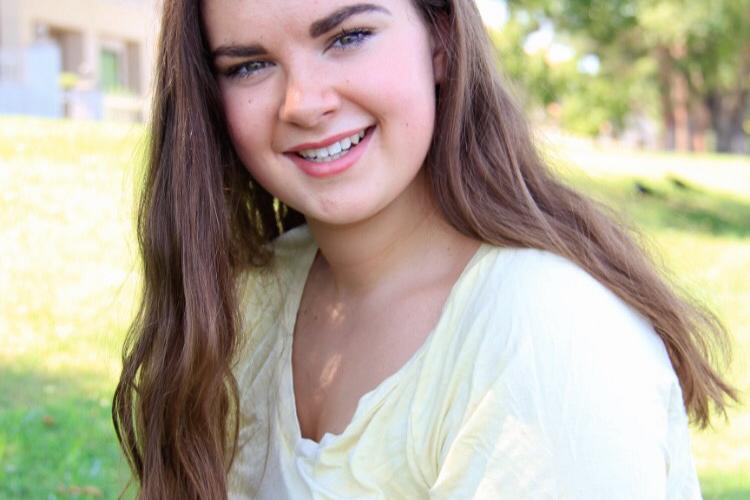 Nanci is a current Foundation Acting student at GSA.  Here she gives an insight into how her foundation year's training is progressing.
Why did you choose to come to GSA?
I chose to come to GSA because I had thoroughly enjoyed my time at the audition and had felt a very positive, friendly and supportive vibe. GSA had been recommend to me by many people at my previous school due to the fact that many GSA graduates and current students attended my previous school (Hurtwood House). Additionally, I had worked with some members of the GSA faculty on outside projects and had really engaged with their teaching style and felt that this would be reflected in the teaching at the school itself.
How did you find the audition process at GSA and do you have any tips or advice for people who are auditioning to get a place on your programme?
I really enjoyed the audition process at GSA as it felt much more friendly and engaging on a personal level than many other auditions I had attended that year. The fact that there were current students on the course for you to talk to before the audition as well as utilise within the audition as the other character in your scene was extremely helpful as it provided a real sense of the type of students the school admits as well as providing an opportunity to ask further questions about the school and life at GSA.
My advice to anyone auditioning for the Foundation course would be to show your personality in the audition as they will be looking to see whether they will be able to work with you as a person and whether you are passionate about what you do. Also, don't be afraid to take risks and be brave in the audition as these are key skills that you will be developing if you gain a place on the course.
Your Foundation programme
Why did you choose to study Foundation Acting? Why are you passionate about your subject?
I chose to study on the Foundation Acting course after realising that I felt too young and not experienced enough to enter a degree programme and to help me decide whether a 3 year training was really for me. The Foundation Course has allowed me to develop my audition skills as well as giving me a real taste of what the industry and drama school training is really like.
What aspects of your programme do you enjoy the most and why?
I enjoy all aspects of the programme because they all work together to make me a more well rounded performer. I have really enjoyed the Improvisation classes as these classes have allowed me to become braver and take more risks in my acting which has been very beneficial. I have also enjoyed the fact that the course isn't just simply geared towards getting you into a 3 year training programme and therefore doesn't solely focus on audition technique. We also have the opportunity to work on plays together from contemporary writing to  an American realism project which has given me an even better taste of the type of work you would do on degree programme and also giving me other projects to work on to improve my acting technique.
What are the staff and facilities like on your programme?
The staff and facilities at GSA have been incredibly beneficial. We have had the opportunity to work with faculty across the board including staff who work on the BA and MA courses whether that be in workshops, masterclasses or for mock auditions. We are lucky enough to have some fantastic working spaces and studios at GSA which are available for us to book out to use in our own time as well which is a real privilege. I have found the staff at GSA to be very friendly, inspiring and supportive. Additionally the staff have challenged my thinking and taught me to take criticism professionally and not personally which has been very beneficial.
Life at GSA and the University of Surrey
Have you lived in University accommodation? If so, what is/was it like?
I have been living at Manor Park university accommodation this year and have really enjoyed living here. I love the fact that my flatmates study such different subjects and that I have been placed in a flat with people from all over the world and people who study such different subjects to me. This has been very refreshing and also very inspiring as it allows me to learn more from them and also engage with the University life.
What would you say is the most important lesson you're learnt so far at GSA?
I have learnt so many valuable lessons at GSA but I think two of the main lessons I have learnt have been to 'take criticism professionally and not personally' and the other one would be to 'feel the fear and do it anyway!'
Looking forward
Do you think you've changed since you started at GSA? How?
I believe that I have changed a lot since starting GSA and all for the better. I have become a more mature, self confident and braver individual as well as performer. GSA has taught me to challenge my thinking and to be fearless and this has been implemented in my personal life as well as within my acting.
What do you think will be the main thing you'll remember about GSA?
I believe that all the things I have learnt throughout my training at GSA will stay with me throughout my further training and within the industry. I think that it's the little one liners and quotes from the staff and from my peers that will stay with me as these have had a great impact on me and have challenged my thinking and inspired me to be a better person and performer. In addition, I believe that the friendships and bond I have made with people on my course will hopefully stay with me after I leave GSA because I believe that on this course we have created a bond like no other and this has been a very special experience.
What are your career ambitions when you graduate?
I have been fortunate enough to gain a place at the prestigious Chapman University in California to study Screen Acting next year and so after I graduate GSA I will be going on to study Screen Acting and then hoping to go into the industry in the USA.
Finally, do you have any other comments you'd like to offer about your time at GSA?
I have thoroughly enjoyed my time at GSA so far and have learnt so much about myself as well as acting, drama school and the industry. I would highly recommend the Foundation Course to anyone who is wanting to go to drama school but feels that they wants to get a feel for it before they go into a 3 year training programme as I believe this is an invaluable year for self discovery and growth both as an individual and as an artist.